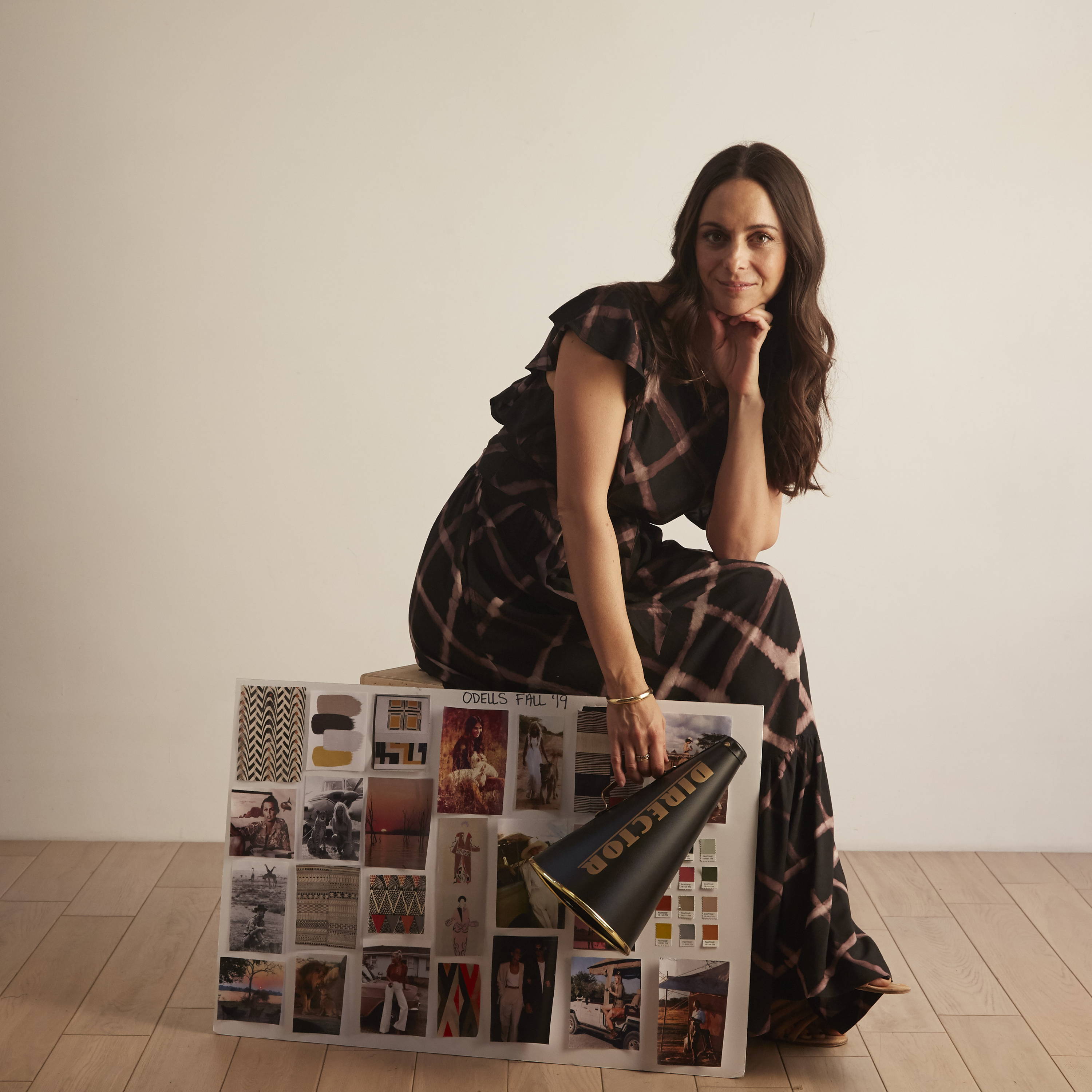 MEET LAURA ODELL: HOLY SMOKES I'VE BEEN DOING THIS THING CALLED DESIGN FOR A LONG TIME. GOING ON 15 YEARS TO BE EXACT AND NEVER ONCE DID I HAVE THE OPPORTUNITY TO WORK FOR/WITH ANOTHER CLOTHING DESIGNER SO SAYING THAT I'VE LEARNED EVERYTHING I KNOW NOW THE HARD HARD WAY WOULD BE A MAJOR UNDERSTATEMENT. BACK IN THE EALY DAYS WHEN I WAS A ONE MAN SHOW THERE WAS NO OTHER OPTION BUT TO DO IT ALL MYSELF. IN FACT, THE FIRST 2 YEARS OF HAVING MY OWN BRAND I SIMULTANEOUSLY WORKED IN RETAIL TO HELP PAY THE BILLS. I WOULD GET HOME FROM WORK AND PLUG AWAY AT WHAT WAS THEN MY "SIDE" BUSINESS UNTIL THE WEE HOURS OF THE MORING. I WAS IN MY EARLY 20'S THOUGH AND SUPER DETERMINED SO I NEVER THOUGHT TWICE ABOUT HOW EXHAUSTED I ACTUALLY WAS. WITH NO INVESTOR AND JUST A TEENY TINY LOAN FROM MY UNCLE I TOOK A LEAP OF FAITH AND MOVED TO A LOFT IN DOWNTOWN LOS ANGELES, (IT WASN'T EXACTLY COOL BACK THEN) BECAUSE I NEEDED A LIVE/WORK SPACE. LITTLE BY LITTLE I WAS GETTING INCREASINGLY BUSIER WITH FULFILLING ORDERS AND DESIGNING FUTURE COLLECTIONS. TO THIS DAY I THINK ABOUT THAT TIME IN MY LIFE AND I'M GRATEFUL FOR ALL THE HARDSHIPS, LONG NIGHTS AND MOMENTS WHEN JASON HAD TO PUT ME ON TOP OF THE FRIDGE TO SIT BECAUSE I WAS STRESSED OUT AND IN TEARS (PS IF YOU'RE EVER IN A PANIC MODE TRY SITTING ON TOP OF YOUR FRIDGE. THERE'S SOMETHING REALLY GROUNDING ABOUT VIEWING THE KITCHEN FROM A HIGH PERSPECTIVE). THE REST IS HISTORY. OUR TEAM HAS GROWN TO THIS BEAUTIFUL ASSORTMENT OF WONDERFUL, TALENTED PEOPLE. EVERYDAY IS AN ADVENTURE IN THIS CRAZY INDUSTRY BUT I WOULDN'T HAVE IT ANY OTHER WAY. TOMORROWS AGENDA WON'T LOOK LIKE TODAYS BUT WITH OUR DREAM-TEAM STAFF I CAN REST ASSURED KNOWING THAT THEY GOT OUR BACK AND I HAVE THEIRS. WE ARE FAMILY AND I AM GRATEFUL FOR ALL THAT THEY DO.
MEET JASON ODELL: JASON NEVER DREAMED ONE DAY HE'D BE WORKING IN FASHION, MUCH LESS RUNNING THE MACHINE. IN FACT, IT WAS PROBABLY THE FURTHEST THING FROM HIS MIND. WHEN WE MET BACK IN 2001 HE WAS A SPONSORED SKATEBOARDER WITH A PENCHANT FOR HIP HOP MUSIC, DRIVING A RED HONDA CIVIC. SHORLTY AFTER WE STARTED DATING I BEGAN MY JOURNEY INTO BECOMING A CLOTHING DESIGNER AND HE WAS RIGHT BY MY SIDE THE ENTIRE TIME. HE WAS ALWAYS TECHNICAL YET EQUALLY CREATIVE SO IN THOSE EARLY DAYS HE WOULD PHOTOGRAPH MY PRODUCT AND FORMAT MY LOOK BOOKS FOR PRINTING. HIS PHOTOGRAPHY CAREER STARTED TO TAKE OFF AS DID MY CLOTHING BUSINESS. SIMULTANEOUSLY WE WERE BOTH MAKING BIG ADVANCEMENTS IN OUR CAREERS. AT ONE POINT, ABOUT A YEAR BEFORE I GOT PREGNANT WITH OUR FIRST CHILD SHAUN, THE RESPONSIBILITIES I WAS FACING AS THE SOLE PROPRIETOR OF MY BUSINESS WERE GETTING OVERWHELMING. KNOWING THAT WE ALSO WANTED TO START A FAMILY SOON I TOLD JASON THAT ALL THE CHALLENGES I WAS FACING WAS MAKING ME WANT TO QUIT. HE SAW HOW SUCCESSFUL THE BUSINESS WAS AND HOW WE WERE GROWING AND QUICKLY SUGGESTED THAT HE TAKE A BREAK FROM PHOTOGRAPHY TO HELP ME RUN THE COMPANY. HE WOULD NOW TAKE CONTROL ON THE NITTY GRITTY DETAILS THAT I DIDN'T ENJOY SO I COULD FOCUS ON BEING CREATIVE. FLASH FORWARD TO PRESENT TIME AND HE'S THE NUMBER ONE REASON WHY/HOW WE'VE BEEN ABLE TO GROW IN THE ORGANIC WAY THAT WE HAVE. HE'S CALCULATED, MATHEMATICAL AND A SUPER OPTIMIST; ESPECIALLY AFTER A FEW CUPS OF COFFEE. NOTHING IS REALLY "IMPOSSIBLE" THROUGH THE EYES OF JASON AND THIS IS WHY WE LOVE HIM SO MUCH.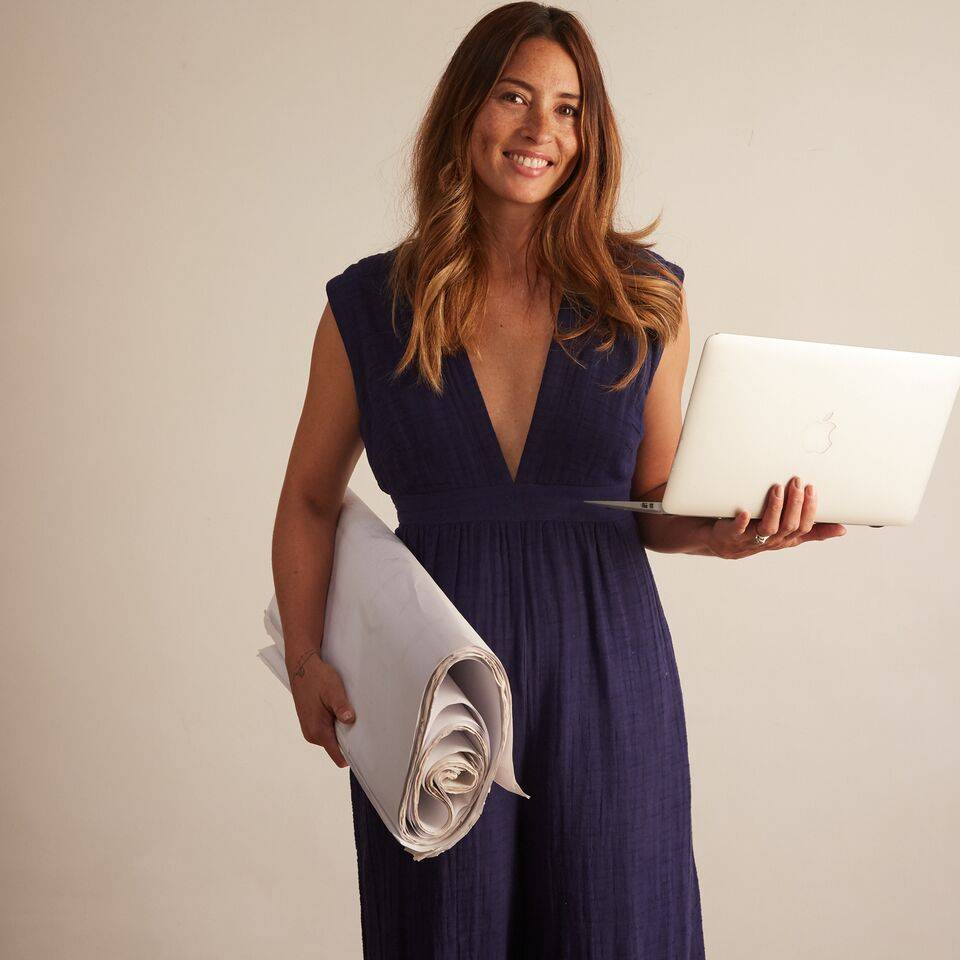 MEET JAIME: I RANDOMLY SOLD JAIME A COUCH FROM A FB POST. THE COUCH WAS AT OUR FROGTOWN OFFICE AND WHEN SHE CAME IN TO PICK IT UP WITH HER HUSBAND I SAW HER CURIOULSY LOOKING AROUND. SHE WAS SO STYLISH AND COOL, (EVEN IN THE WORKOUT CLOTHES SHE WAS WEARING AT THE TIME) AND KINDLY ASKED WHAT WE "DID" HERE. I PROCEEDED TO TELL HER ABOUT THE ODELLS AS A BRAND AND ABOUT THE RETAIL SHOP IN SUNSET JUNCTION AND SHE INSTANLTY PERKED UP. WE CHATTED FOR A BIT AND I CAME TO FIND OUT THAT HER CAREER BACKGROUND WAS IN MARKETING. HAVING AN IN-HOUSE MARKETING PERSON WAS A POSITION I'D ALWAYS DREAMED OF BEING ABLE TO FILL ONE DAY BUT KNEW THAT IT WOULD HAVE TO BE A VERY SPECIAL PERSON WHO UNDERSTOOD OUR UNIQUE BRAND DNA. WE INTERVIEWED JAIME AND QUICKLY FELL IN LOVE WITH HER. SHE WORKS SIDE BY SIDE WITH ESPIE AND OUR PR FIRM CREATING FUN CAMPAIGNS AND PLANS/CALENDARS OUT OUR ENTIRE YEAR FOR THE BRAND. SHE'S ALSO A MOM OF 3, JUST LIKE ME, SO I BOW DOWN TO HER FOR ALL THAT SHE DOES WHILE JUGGLING HER FAMILY DUTIES. LIKE A MISSING PIECE OF A PUZZLE JAIME FITS IN SEAMLESSLY.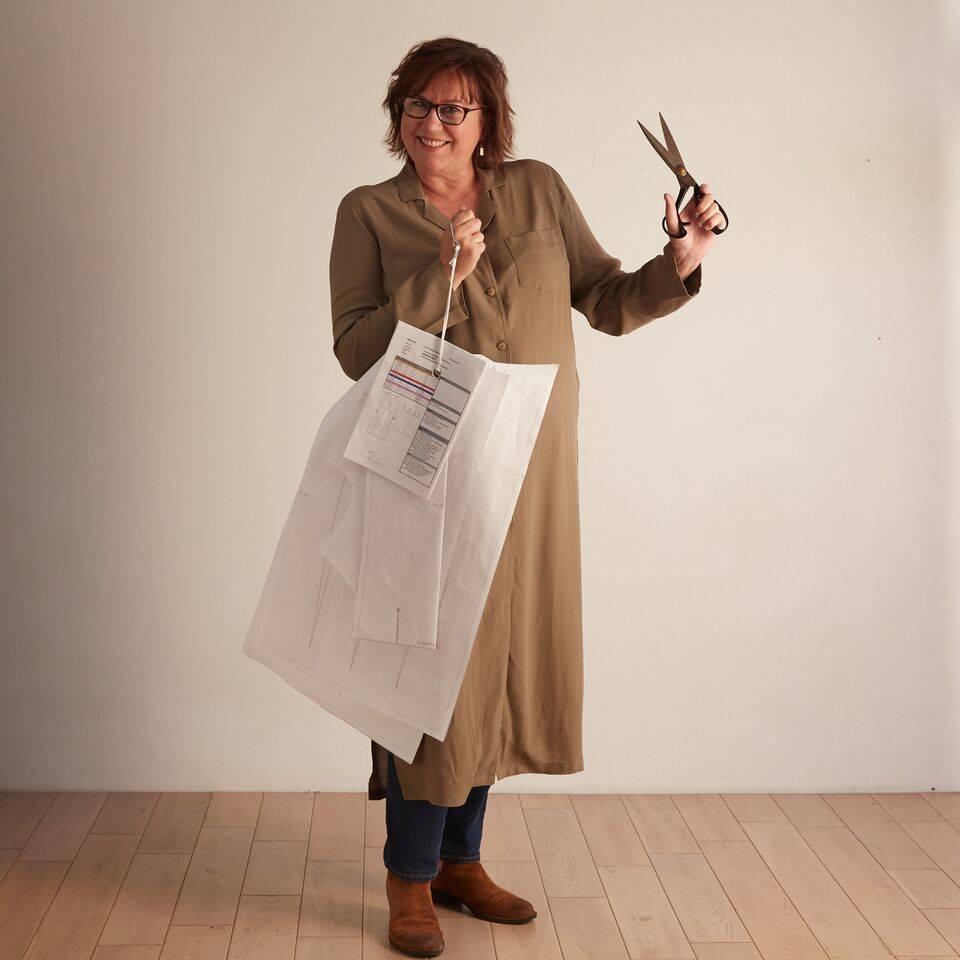 MEET KOKI: OH LORD WHAT WOULD I DO WITHOUT KOKI. WHAT WOULD WE ALL DO WITHOUT KOKI?!! I ONCE TOLD JASON THAT IF KOKI EVER QUITS I'M QUITTING TOO. KOKI RUNS OUR SAMPLE ROOM BUT THAT'S AN OVER SIMPLIFICATION OF WHAT SHE ACTUALLY DOES. SHE'S ALSO A HUGE PART OF THE PRODUCTION PROCESS AND CAN MAGICALLY FIGURE OUT A WAY FOR OSCAR TO TURN A SKIRT SAMPLE INTO A JUMPSUIT IF WE'RE IN A BIND. SHE'S ALSO THE MASTER AT MEMORIZING STYLE NUMBERS AND FABRIC CODES. HER MIND AMAZES US BECAUSE IT'S BASICALLY A CATALOGUED LIBRARY FOR PRETTY MUCH EVERY SAMPLE WE'VE EVER DEVELOPED. THERE'S A BRIGHTNESS HER SOUL REFLECTS AND SHE'S JUST ABOUT THE EASIEST PERSON TO WORK WITH. SHE'S A GEM OF A LADY AND WE'D BE LOST WITHOUT HER.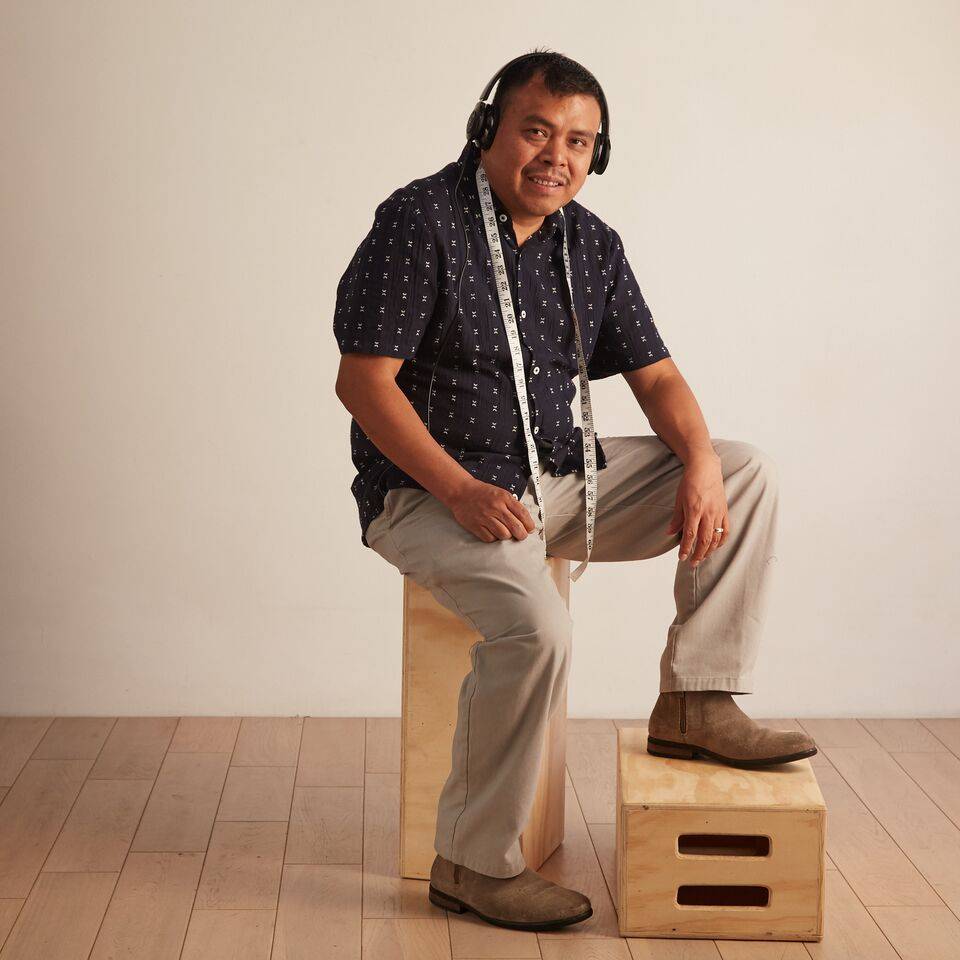 MEET OSCAR: OSCAR HAS BEEN OUR LOYAL SAMPLE MAKER SINCE DAY 1 WHEN WE DECIDED TO HAVE AN IN-HOUSE SEWER. HIS WORK IS BEAUTIFUL , DETAILED AND FLAWLESS. HE ALWAYS COMES IN WITH A SMILE ON HIS FACE AND A WONDERFUL HARD WORKING ATTITUDE. HE'S HUMBLE AND TRUSTWORTHY. WE KNOW WE CAN ALWAYS COUNT ON HIM IN A BIND IF WE'RE ON A DEADLINE AND NEED HIM TO STAY LATE OR COME IN ON A SATURDAY. THE OTHER REASON WHY WE LOVE OSCAR IS BECAUSE HE'S THE ONLY PERSON IN THE OFFICE BOLD ENOUGH TO REQUEST A FULL ON PIZZA PARTY FOR HIS BIRTHDAY AND WE GLADLY GIVE IT TO HIM AND PULL OUT ALL THE STOPS BECAUSE HE'S THAT AWESOME.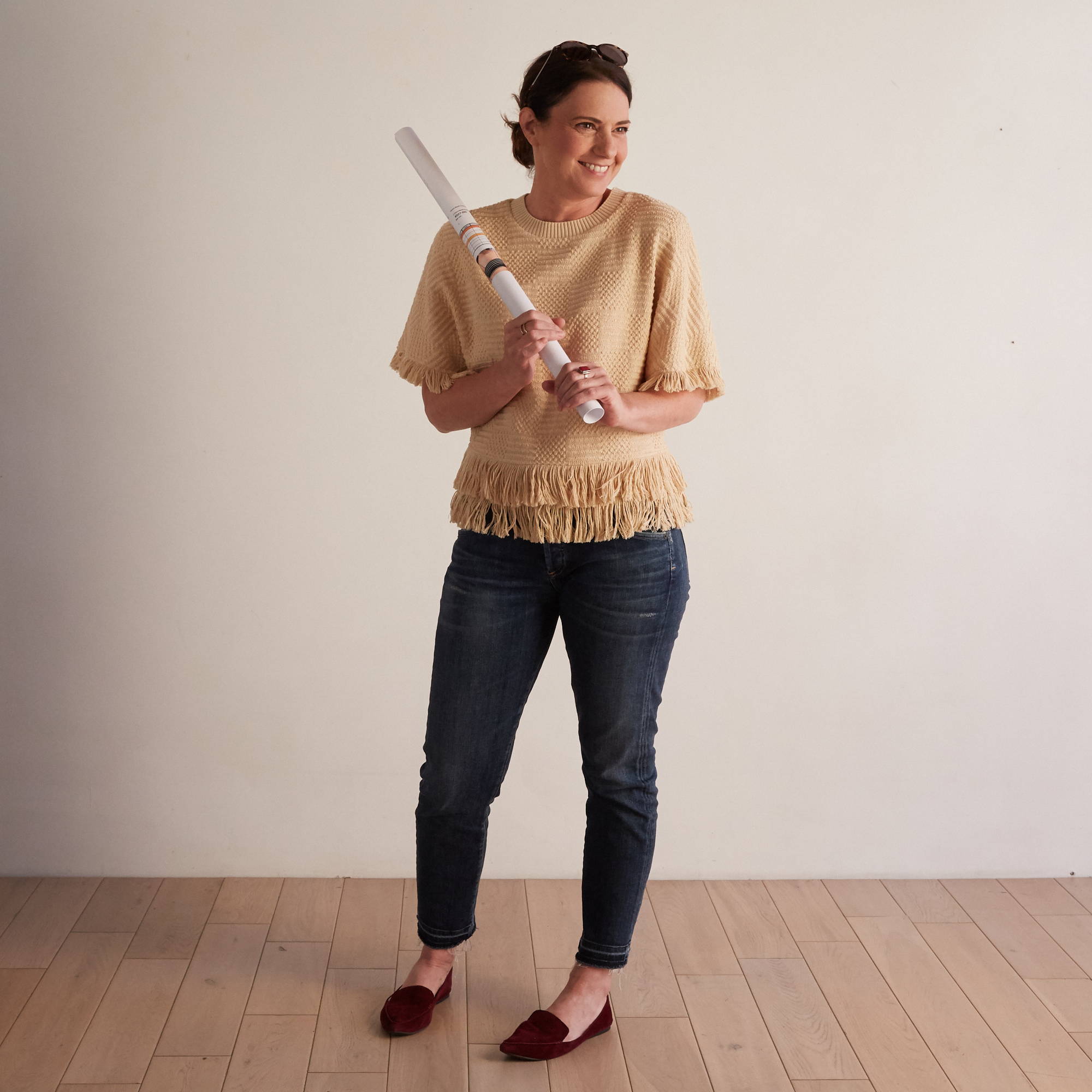 MEET LAUREN: LAUREN IS THE BEST PATTERN MAKER I'VE EVER WORKED WITH. HANDS DOWN. I'M NOT THE MOST COPIOUS DESIGNER AND SOMEHOW SHE'S ABLE TO MAKE SENSE OF THE FLURRY OF SKETCHES, POST IT NOTES, VINTAGE GARMENTS FOR REFERENCE AND RANDOM TEXTS I SEND HER AT 9PM AFTER THE KIDS ARE IN BED. SHE TOTALLY UNDERSTANDS THE LOOK AND VIBE OF THE BRAND SO WORKING WITH HER IS SO UNCOMPLICATED. SHE PUTS THE ADDED JE NE SAIS QUA INTO OUR PATTERNS WHICH TAKES THEM FROM ORIDINARY TO EXCEPTIONAL. WE LOVE HER CHILL PERSONALITY AND THE FACT THAT SHE'S TOTALLY NOCTURNAL. JASON AND I WERE IN INDIA A FEW YEARS AGO WORKING WITH OUR FACTORY AND WE HAD A QUESTION ABOUT ONE OF OUR PATTERNS. BEING THAT IT WAS 9AM IN INDIA AND THE MIDDLE OF THE NIGHT IN CALIFORNIA WE KNEW IT WAS THE PERFECT TIME TO REACH HER. WE CALLED, AND SHE ANSWERED, READY TO WORK! AS OF RECENLTY SHE STARTED HER OWN LINE CALLED REATH AND WE COULDN'T BE MORE HAPPY FOR HER. WITH HER TALENT AND EYE FOR DETAIL SHE'S DESTINED TO SUCCEED AND THIS MAKES US VERY PROUD.
MEET SANDRA: LONG LONG AGO WHEN WE WERE BUILDING UP OUR BUSINESS JASON WISHED THAT ONE DAY WE WOULD BE ABLE TO HIRE SOMEONE CAPABLE OF STEERING OUR SHIP IF/WHEN, (IT HAPPENS OFTEN), WE WERE NOT AROUND. HAVING A WHOLESALE AND RETAIL BUSINESS IS NO JOKE AND THERE IS A CONSTANT STREAM OF MOVING PARTS HAPPENING AT ALL MOMENTS. SANDRA HANDLES AND MANAGES ALL OF THIS EVEN WHEN SHE'S CHILLAXING ON A BEACH IN BARCELONA. SHE'S JASONS RIGHT HAND AND ALSO HAPPENS TO BE ONE OF MY BFF'S. SHE'S GOT OUR BACK AND THERE'S A CERTAIN PEACE THAT COMES WITH KNOWING SHE'S SO ON TOP OF EVERYTHING. JIMMY IS HER BELOVED PUP AND OUR FROGTOWN HEADQUARTERS MACOT. HE ENJOYS LIVING ON THE EDGE AND WILL SNEAK UNDER YOUR OFFICE CHAIR, (THAT HAS WHEELS!), AND MAKES A SILENT ESCAPE INTO OUR COURTYARD IF THE DOOR IS LEFT OPEN ONLY A CRACK.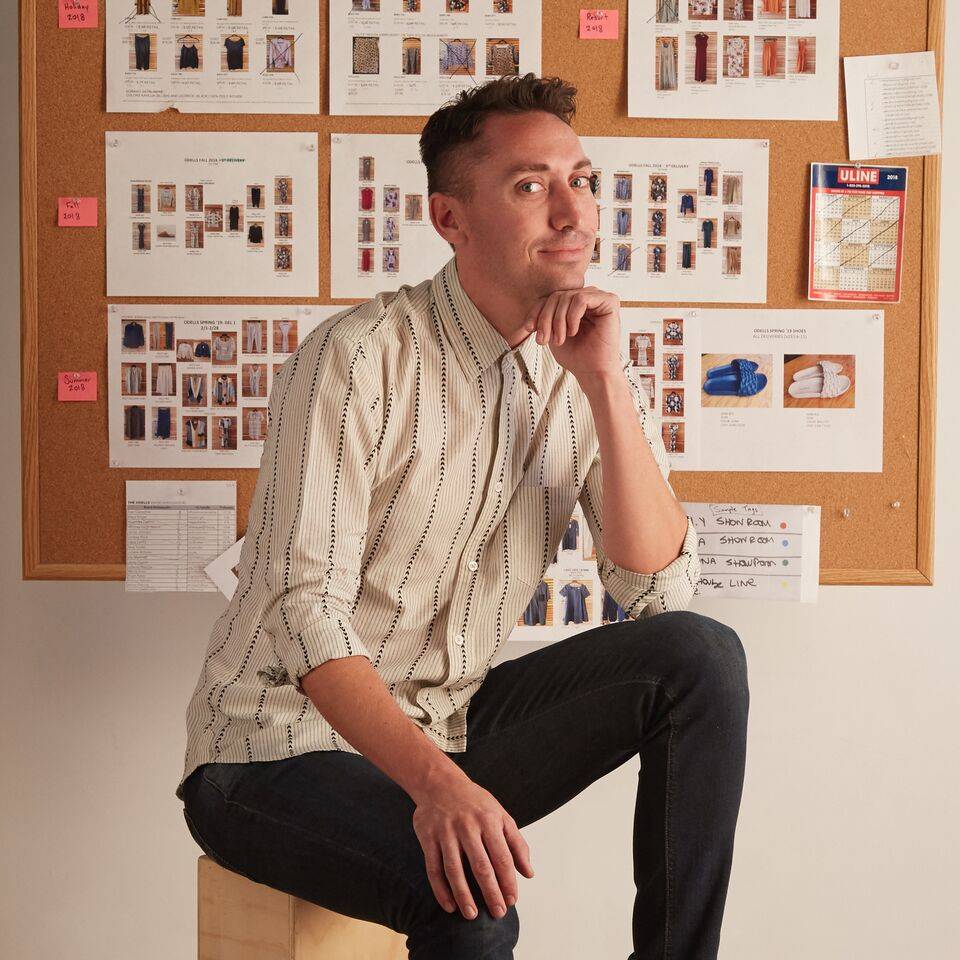 MEET JOHN: JOHN WORKED WITH US WAY BACK WHEN WE WERE A TINY BRAND TRYING TO "MAKE IT" IN THE CRAZY WORLD OF FASHION. WE HIRED HIM SHORTLY AFTER HAVING OUR FIRST CHILD SHAUN WHO'S NOW 8 YEARS OLD. OUR OFFICE IN OUR VACANT LOS FELIZ GUEST HOUSE AND YEARS LATER HE QUIT AND BECAME AN ELEMENTARY SCHOOL TEACHER. WE WERE SO SAD TO SEE HIM LEAVE AND I TOLD JASON THAT ONE DAY (IF WE GET OUR SH*T TOGETHER) WE'D GET HIM BACK. I NEVER LOST TOUCH WITH JOHN. I'D RANDOMELY TEXT HIM EVERY FEW MONTHS TO SEE HOW THINGS WERE GOING WITH HIM AND ONE DAY I ASKED IF HE'D BE INTERESTED IN COMING BACK AND HE SAID YES! OVER JOYED WOULD BE AN UNDERSTATEMENT DESCRIBING THE WAY WE FELT. THERE IS NO BETTER CUSTOMER SERVICE MANAGER THAN JOHNAND HE STAYS ON TOP OF OUR PRODUCTION SCHEDULE LIKE A GEM. HE WEARS MANY HATS AS EVERYONE DOES AND WE'RE SO GRATEFUL HE CAME BACK AND IS PART OF THE TEAM AGAIN.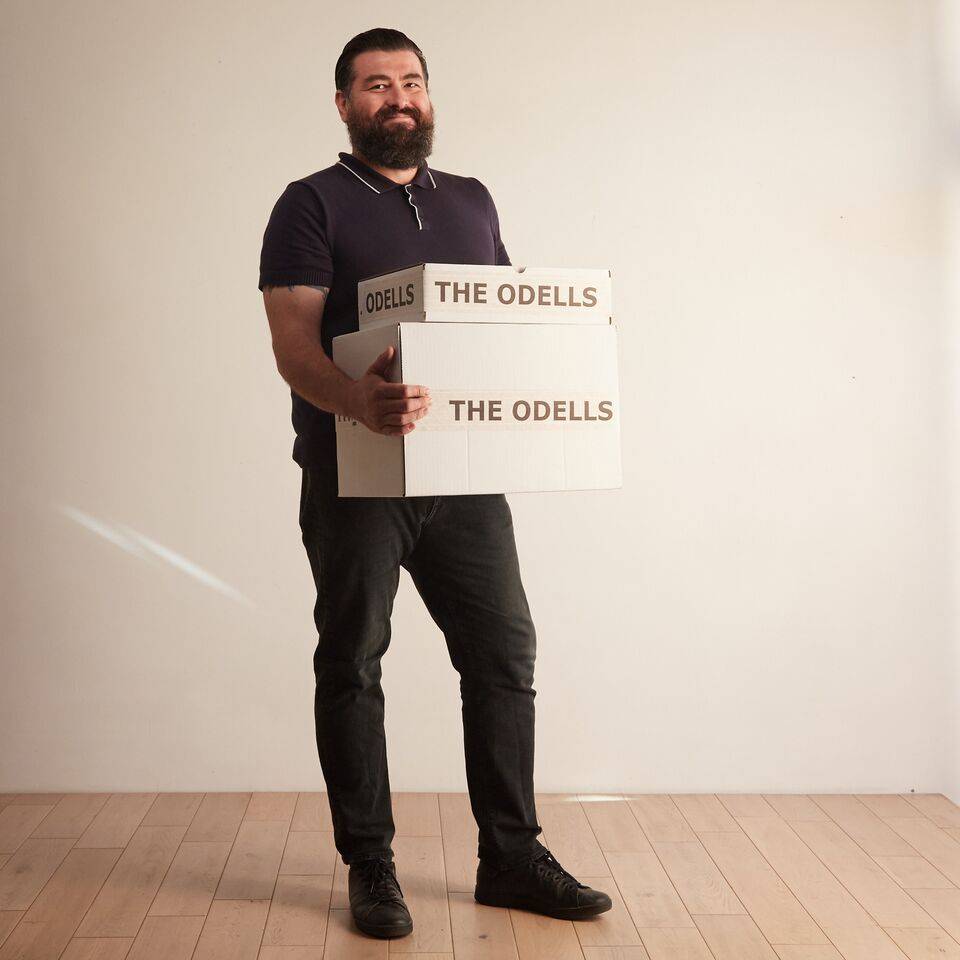 MEET JORGE: JORGE IS OUR HANDSOMELY STYLISH DRIVER AND DO-EVERYTHING GUY. HE HELPS OUT WHEN WE NEED ERRANDS RUN AROUND TOWN LIKE DROPPING OFF SAMPLES TO OUR SHOWROOM , SHIPMENTS TO THE SHOP AND BUYING FUN THINGS LIKE BOOZE FOR STORE EVENTS. HE'S ALWAYS WILLING TO LEND A HAND WITH OTHER DUTIES AS WELL AND WE KNOW WE CAN ALWAYS COUNT ON HIM TO SHIP OUT BOTH STORE AND ONLINE ORDERS WHEN NEEDED. JASON OFTENTIMES WRESTLES HIM TO THE FLOOR BECAUSE IT'S FUN AND HE LOVE HIM THAT MUCH. HE ALSO HAPPENS TO BE SANDRA'S LOYAL HUSBAND, SO LADIES DON'T ASSUME HE'S SINGLE. SANDRA WILL CUT A B*TCH, TRUE STORY.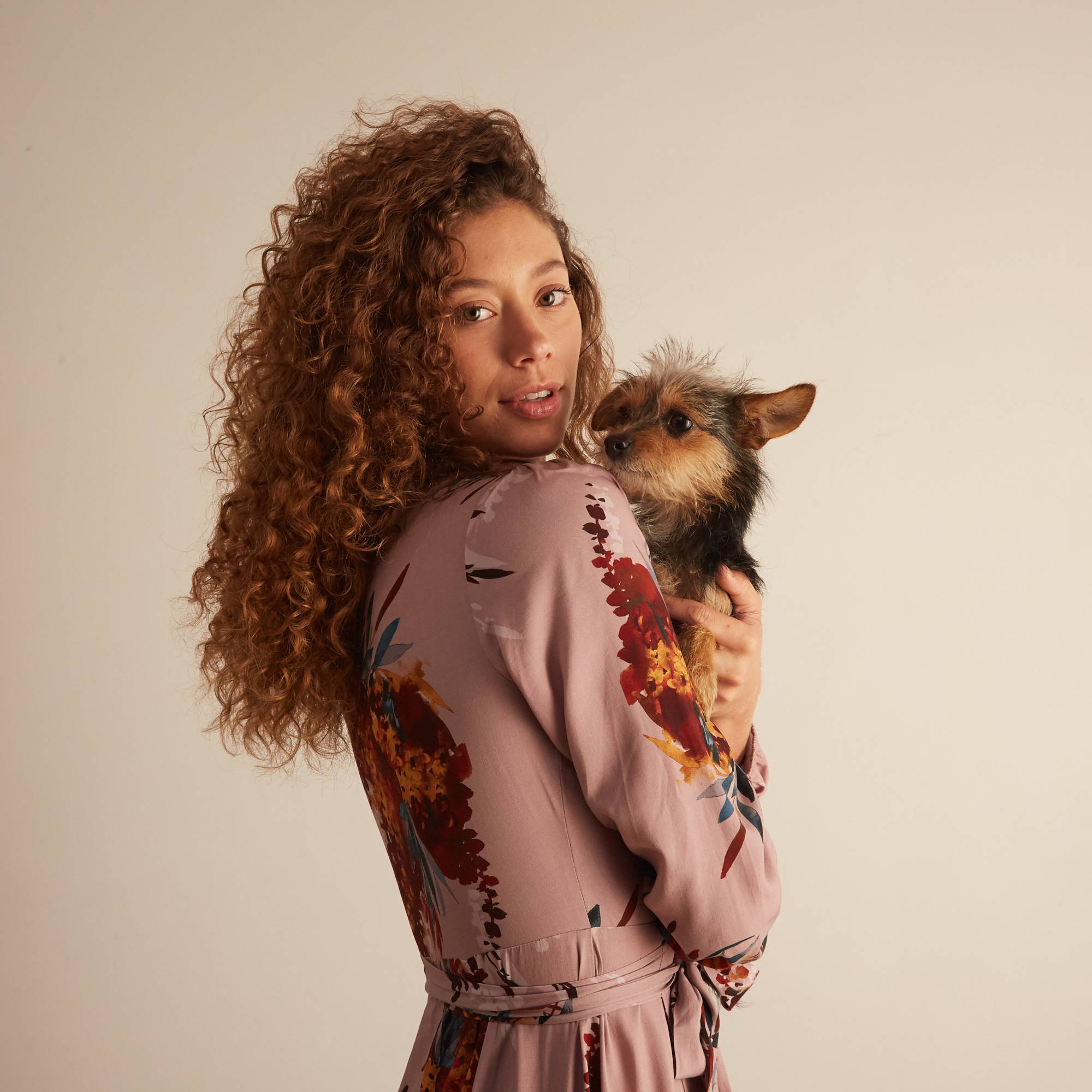 MEET MAYA: I FIRST MET MAYA WHEN SHE WORKED AT A PRESSED JUICE SHOP ACROSS THE STREET FROM OUR SILVERLAKE STORE. I WAS PURCHASING A 3 DAY CLEANSE AND ASKED HER A FEW QUESTIONS ABOUT THE DETOX PROCESS. WHEN SHE WENT TO GET OUR JUICES I WHISPERED TO JASON "DO YOU THINK I SHOULD ASK HER IF SHE WOULD MODEL FOR THE WEBSITE?". JASON AGREED THAT SHE WOULD BE A GOOD FIT SO I WENT AHEAD AND ASKED HER. SHE WAS SUPER SWEET , EASY TO TALK TO AND HAPPILY SAID YES! FROM THAT MOMENT ON SHE BECAME OUR ODELLS SHOP IT-GIRL. MAYA PERFECTLY EMBODIES THE LOOK AND FEEL OF THE BRAND. SHE HAS THE QUINTESSENTIAL LAID BACK CALIFORNIA-COOL VIBE AND SHE EVEN SKATE-BOARDS! WE'RE ALSO OBSESSED WITH HER DREAMY MANE OF ENDLESS CURLS. ALL IN ALL THIS GIRL IS RAD.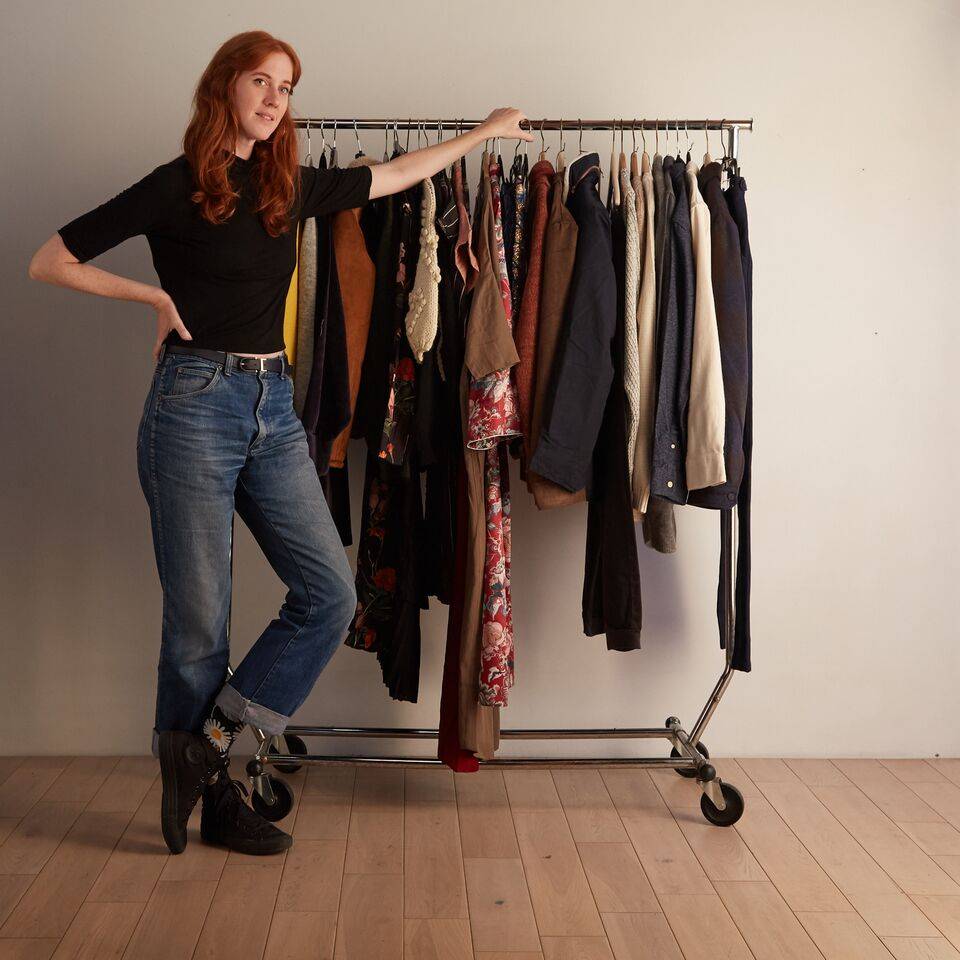 MEET CHLOE: CHLOE IS THE MASTER OF CHECKING IN ALL OUR SHIPMENTS FROM THIRD-PARTY SHOP VENDORS. SHE DILIGENTLY CHECKS EACH GARMENT AND MAKES SURE EVERYTHING ON OUR INVOICE IS ACCOUNTED FOR. IN ADDITION TO THAT SHE ALSO MANAGES OUR ONLINE SHOP, RE-MERCHANDISES IT WEEKLY AND IS OUR CUSTOMER SERVICE POINT-PERSON FOR THE WEBSITE. SHE ALSO WORKS IN PHOTOSHOOTS WITH ESPIE AND JASON AND IS THE CREATIVE GAL BEHIND ALL OF OUR ONLINE SHOP OUTFITTING. A FEW WEEKS AGO SHE CAME TO THE OFFICE WEARING ROLLER SKATES AND SHIPPED ORDERS WHILE ZIPPING AROUND THE OFFICE. AFTER ALL, IF THE GOOD LORD HAD INTENDED US TO WALK HE WOULDN'T HAVE INVENTED ROLLER SKATES.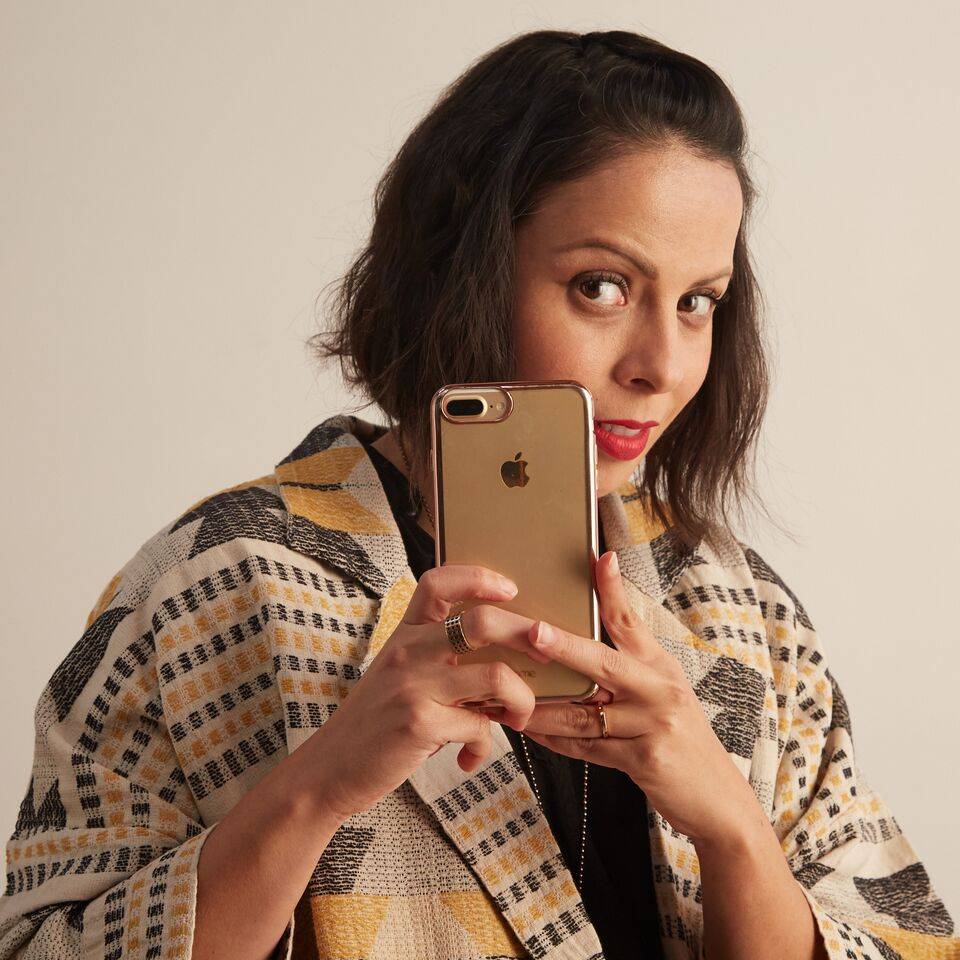 MEET ESPIE: HOW LUCKY AM I? I GET TO WORK WITH MY BEST FRIEND SINCE HIGH SCHOOL. OVER THE YEARS ESPIE HAS WORN MANY HATS IN OUR GROWING COMPANY AND WE'RE SO GRATEFUL FOR HER FLEXIBILITY AND LIGHT EASY-GOING SPIRIT. IT'S IMPOSSIBLE NOT TO LOVE HER AND SHE PROVIDES LOTS OF HUMOR FOR OUR ENTIRE OFFICE! THE MOST RECENT SHIFT IN HER JOB HAS BEEN TAKING OVER OUR IG. BEING THAT I'VE KNOWN ESPIE SINCE WE WERE 14 SHE'S PRETTY MUCH FAMILY AND THE PERFECT PERSON WITHIN OUR COMPANY TO CAPTURE OUR "VOICE" AS A BRAND. IN ADDITION TO SOCIAL MEDIA SHE WORKS HAND IN HAND WITH JAIME CREATING ALL OF OUR EBLATS AND MARKETING CAMPAIGNS AND ALSO WORKS THE PHOTO SHOOTS WITH JASON AND CHLOE.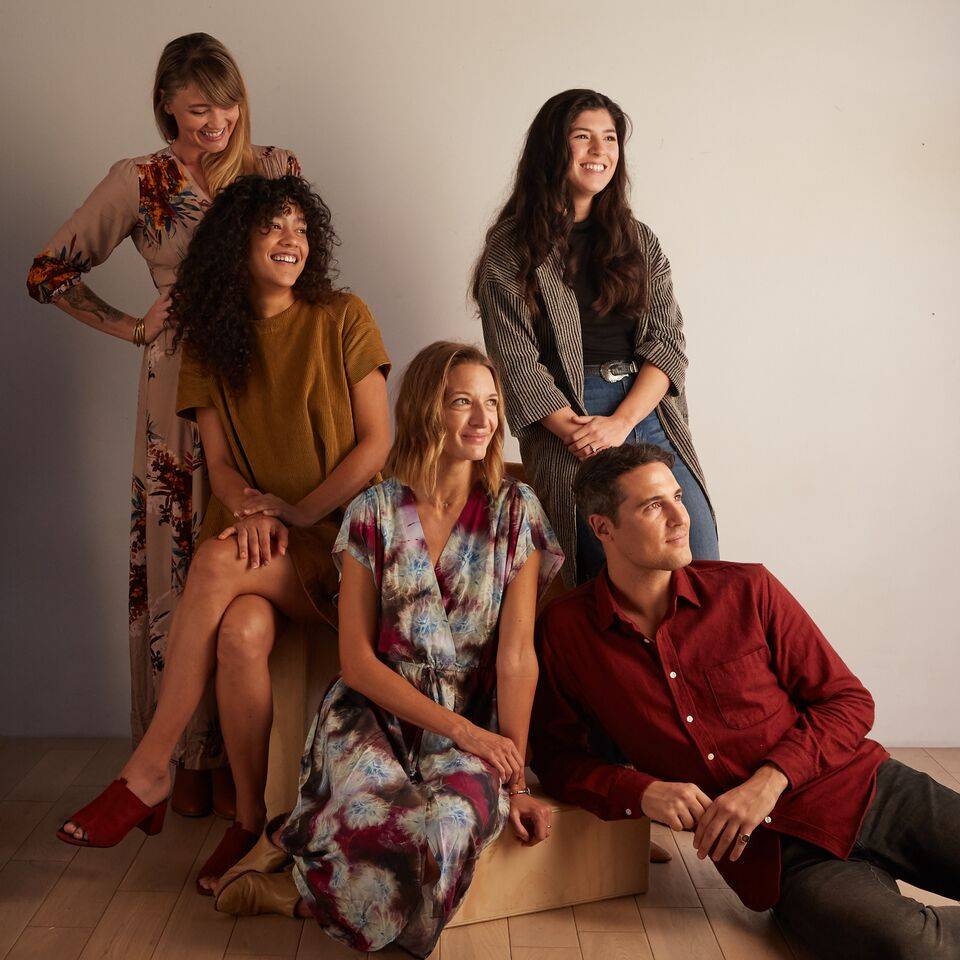 MEET THE TEAM: HOLY SMOKES, THE STORE TEAM IS LIT! NORMALLY WHEN YOU'RE THE OWNER OF A SMALL BOUTIQUE IT'S CUSTOMARY TO WORK IN YOUR OWN SHOP. WE HAVE A UNIQUE SITUATION HOWEVER BECAUSE WE'RE ALSO CLOTHING MANUFACTURERS AND OUR OFFICE HEADQUARTERS HAPPENS TO BE IN A SEPARATE LOCATION. OUR DREAM-TEAM STORE PEEPS HOLD DOWN OUR RETAIL FORT SO WE CAN CONCENTRATE ON DESIGN AND RUNNING THE WHOLESALE OPERATION. THEY ARE THE "FACES" OF OUR BRAND AND THE FRIENDLY FOLKS YOU INTERACT WITH WHEN YOU COME TO THE SILVERLAKE SHOP. WE LOVE EVERY SINGLE ONE OF THEM AND ARE SO LUCKY TO HAVE THEM AS PART OF THE ODELLS FAMILY.